LO CIRCLE
Michèle Polak
WHO

photographer
mother of our founder

IG

@debergenseboekenkast


LO COLOUR

MIMI

"IMMERSE YOURSELF IN ART, YOUR BRAIN WILL THRIVE."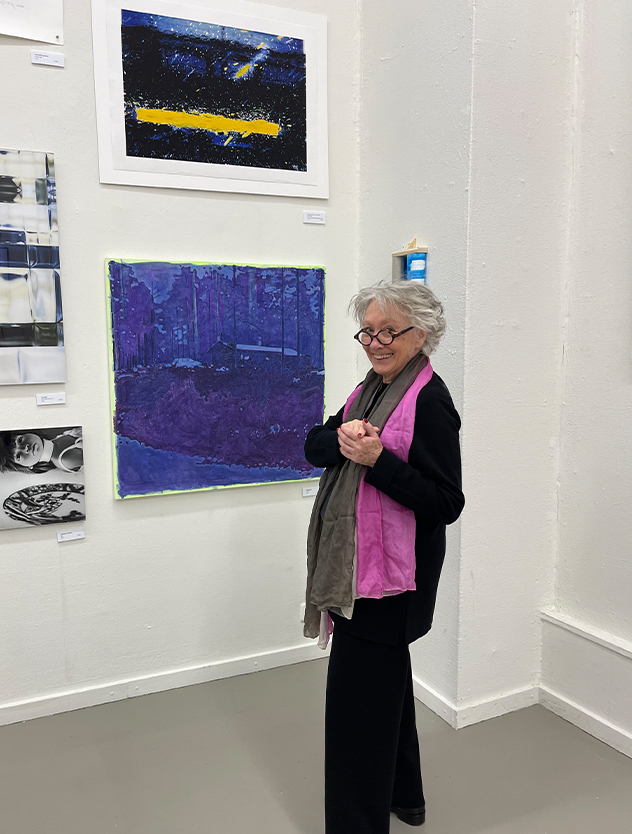 March 8, 2023 by Rosa Polak
Every year we introduce a complementary card for Mother's Day. This years card is extra special for me personally, because it features an image captured by my mother Michèle Polak.
A clear blue sky, part of a larger collection of 300 photos, all taken during the first lockdown in 2020, symbolizing clarity and the hope that emerged when the skies became clearer and air quality improved.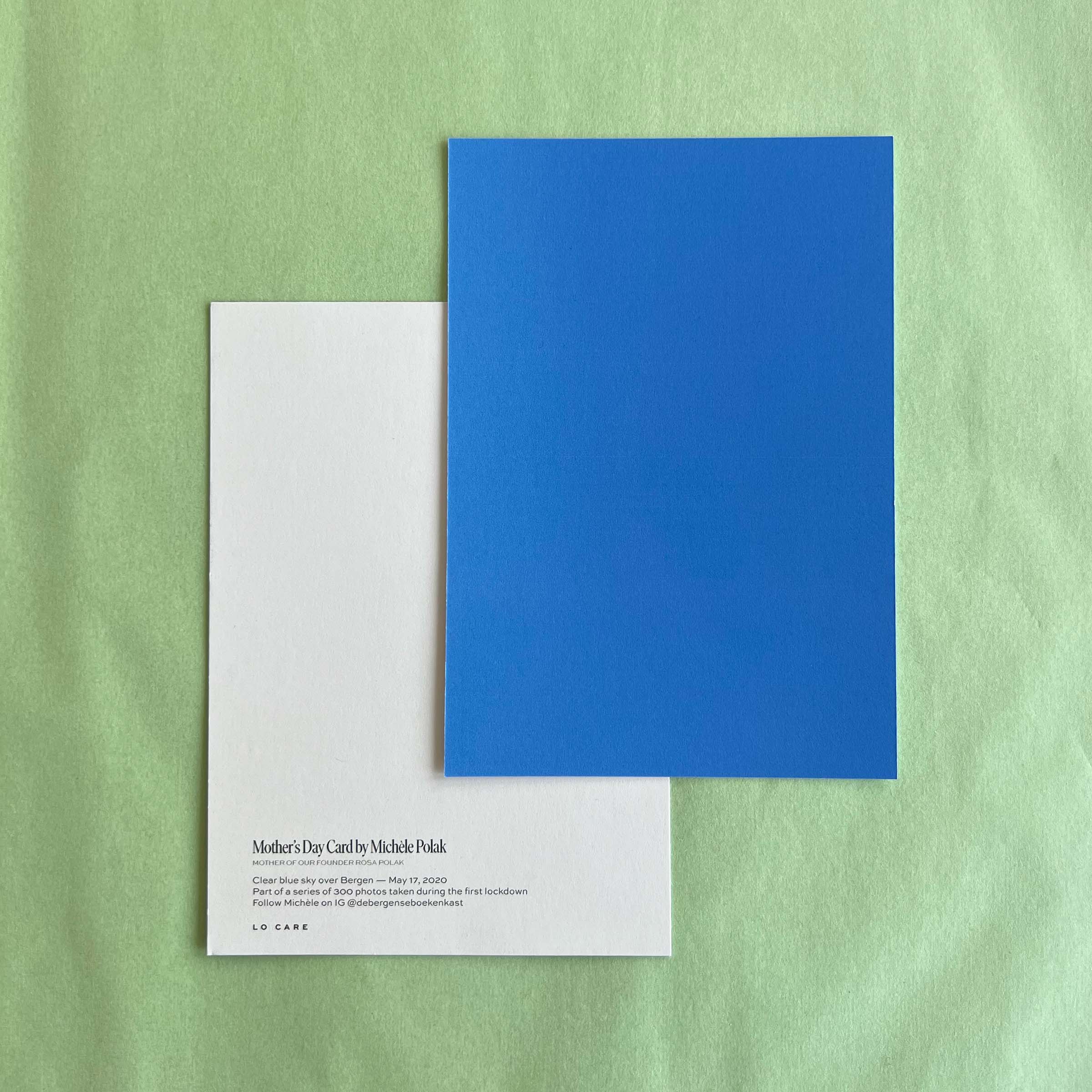 Michèle has a diverse background in photography and the arts. She worked in Dutch film, documentary, and as a resident photographer at the Dutch National Opera House.
Below we talk about the blue skies project, her hopes and inspirations and what self-care and well-being means to her. Get to know my mother Michèle.
Thank you for giving me one of your blue skies to use as this years Mother's Day gift card. As your biggest fan, this is my favourite project of yours. Could you tell how it came to be?
During the pandemic, when the stay at home restrictions were put in place I noticed changes in the sky. Less pollution, an overall clearer sky. I wanted to document this unique moment in time, when there were no cars, no airplanes, everyone had to stay at home. I decided to take a mirror into our garden and photograph three times a day, morning, noon, and evening. I photographed the reflection of the sky above and became fascinated with the changes and the positive influences the pandemic had with the quality of the air over our village of Bergen. During that time, when all you could do was stay in your home or garden, this project became my ritual of joy. Peaceful, liberating, and healing, hypnotizing even. These images represent clarity, a guiding light of hope.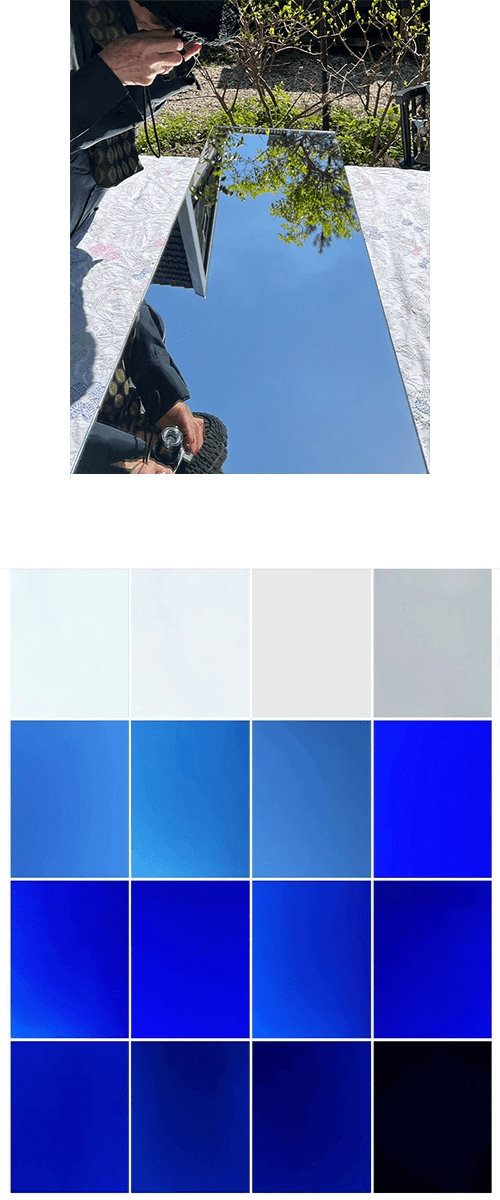 Can you briefly tell us about your background in photography?
Growing up in an artistic family, I received my first camera, a Yashica B medium format, at the age of 14. I experimented, photographed bands like the Golden Earring, Dave Berry, The Scorpions, went to Art School and after a trip to South America I ended up as the resident photographer at the Dutch National Opera House. The world of theatre and music led me to explore art and literature in a much wider sense. It was a dream time for me. Working there provided a great grounding in analogue photography, something that helps me enormously in my current digital work.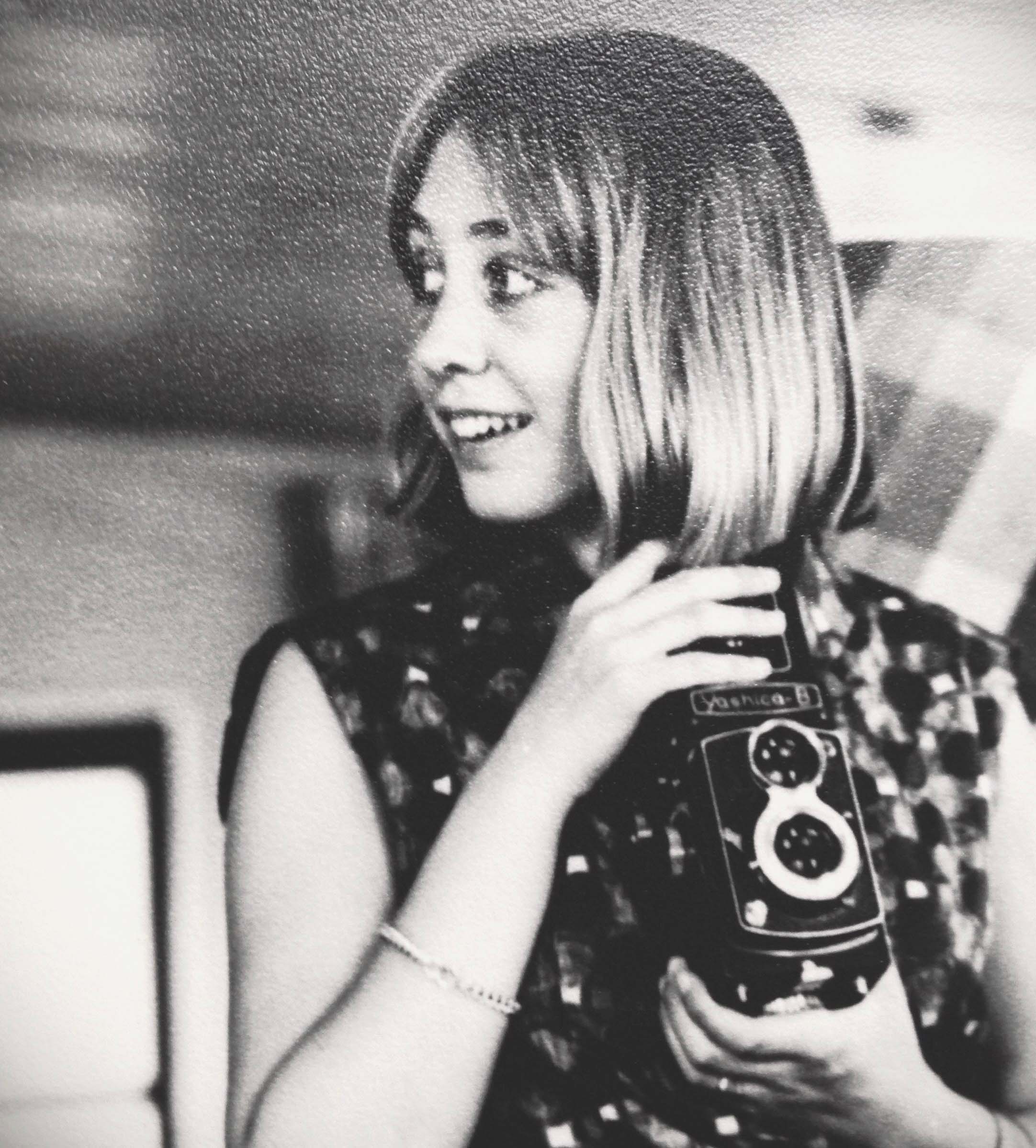 It's been really exciting to see you reviving your carreer.
I'm forever grateful you encouraged me to join Instagram, which motivated me to start photographing again and gave me a platform to share my work. This has not only helped me connect with like-minded people but also opened up new opportunities for me. Now, I have exhibitions all over Europe, which is an achievement beyond my imagination. It keeps me young and I have lots of fun. It was very special to me that you and Badu came to see my work in Paris last November.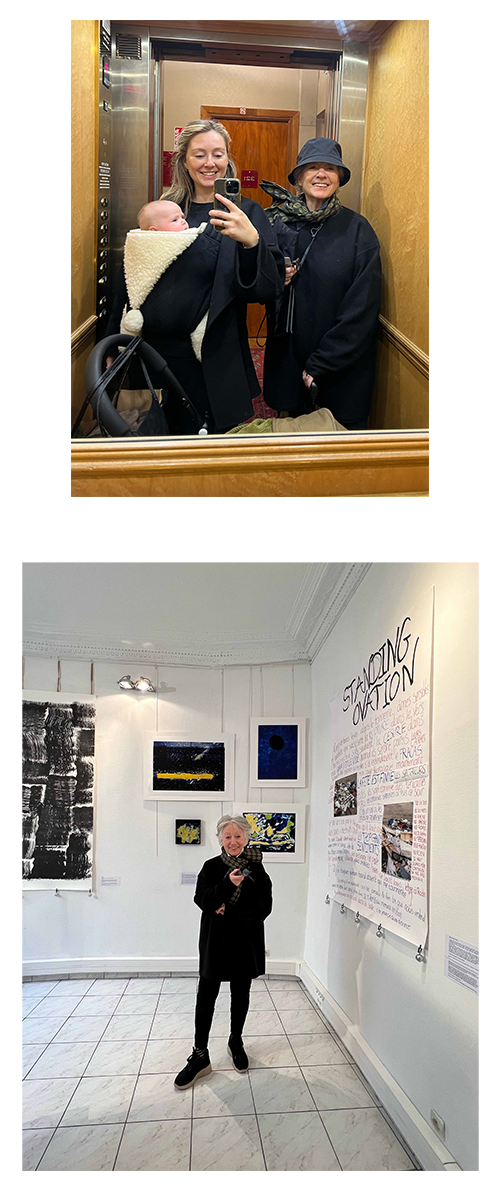 What do you hope to convey through your photographs?
Art has the power to inspire change. My photography is my way of making a statement and provoking thought. Right now I'm deeply concerned about climate change and the current state of our world. I would hope to convey a sense of urgency for a better future. Blue plays a significant role in my work. It can represent many things. It can be melancholy, reflect grief, sadness and sorrow. Blue can be a solemn place where there is purity, beauty and eternal light. We all have a responsibility to take care of the planet and to ensure a future for the generations to come.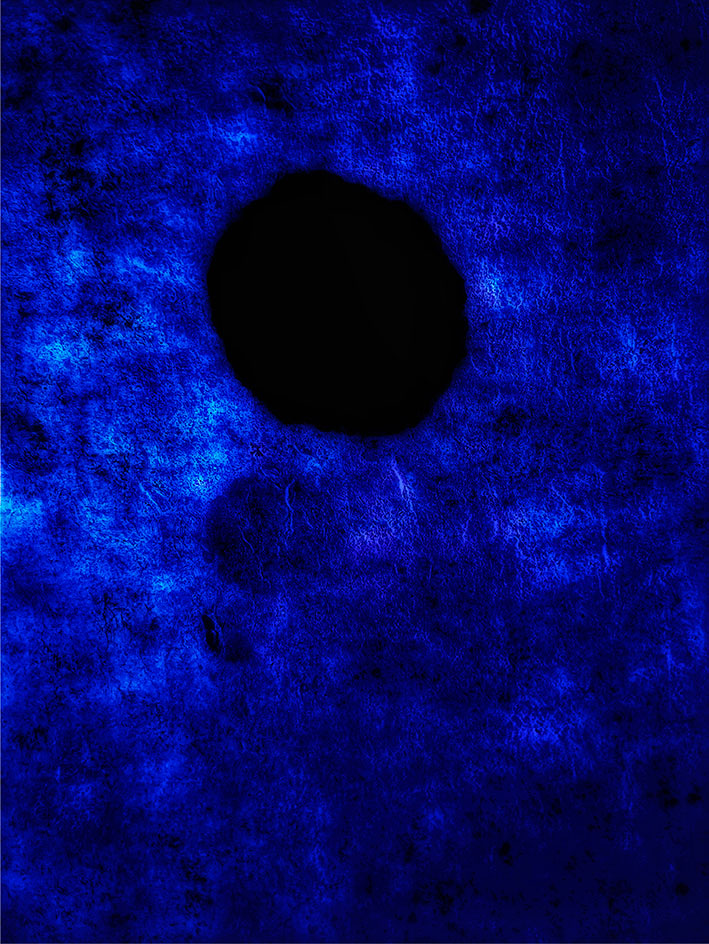 What inspires you in life?
I am influenced by the art I grew up with. It is not easy to pinpoint what made a lasting impression. French and Russian cinema were important as was the British film Blow-Up.
During my time at the Dutch Opera, I was directly involved in the production of Philip Glass' opera Satyagraha. The enormous discipline it took to make and perform this piece was astounding. I took photo's at every rehearsal and performance. As you can imagine, this left a huge impression on me. I see and feel the effects in my current work: repetitive patterns, minimal art and the (slow) motions of nature.

You hardly wear any make-up, and have a very minimal skin care and wellness routine. What are your wellness habits?
For me wellness isn't about make-up or skin care routines. I love LO though, but for me, beauty comes from within. How you nourish yourself, I truly believe that you are what you eat. That's why I don't eat meat, it's bad for our planet and our body. I think it's important to nourish your body with healthy, whole foods. But self-care isn't just about what you eat or how you look. It's about taking care of your mind and soul too. I like to feed myself on literature, visit museums, and see beautiful things in my area. It's all about finding what makes you happy and doing more of it. That's my self-care, and it works for me.
How do you define beauty?
Beauty is in art, in reading, in knowledge, in music. Not in consumerism.
A note to your younger self
Resilience is a key trait that's necessary to succeed in life. Setbacks and obstacles are inevitable, but it's how you deal with them that ultimately determines your success and happiness.
What do you want to pass on to the next generation?
The importance of finding your passion in life. It's crucial to figure out what you like to do and what makes you happy, because that's what gives your life meaning and fulfillment. It's not just about making a living, but also about making a difference and contributing to society.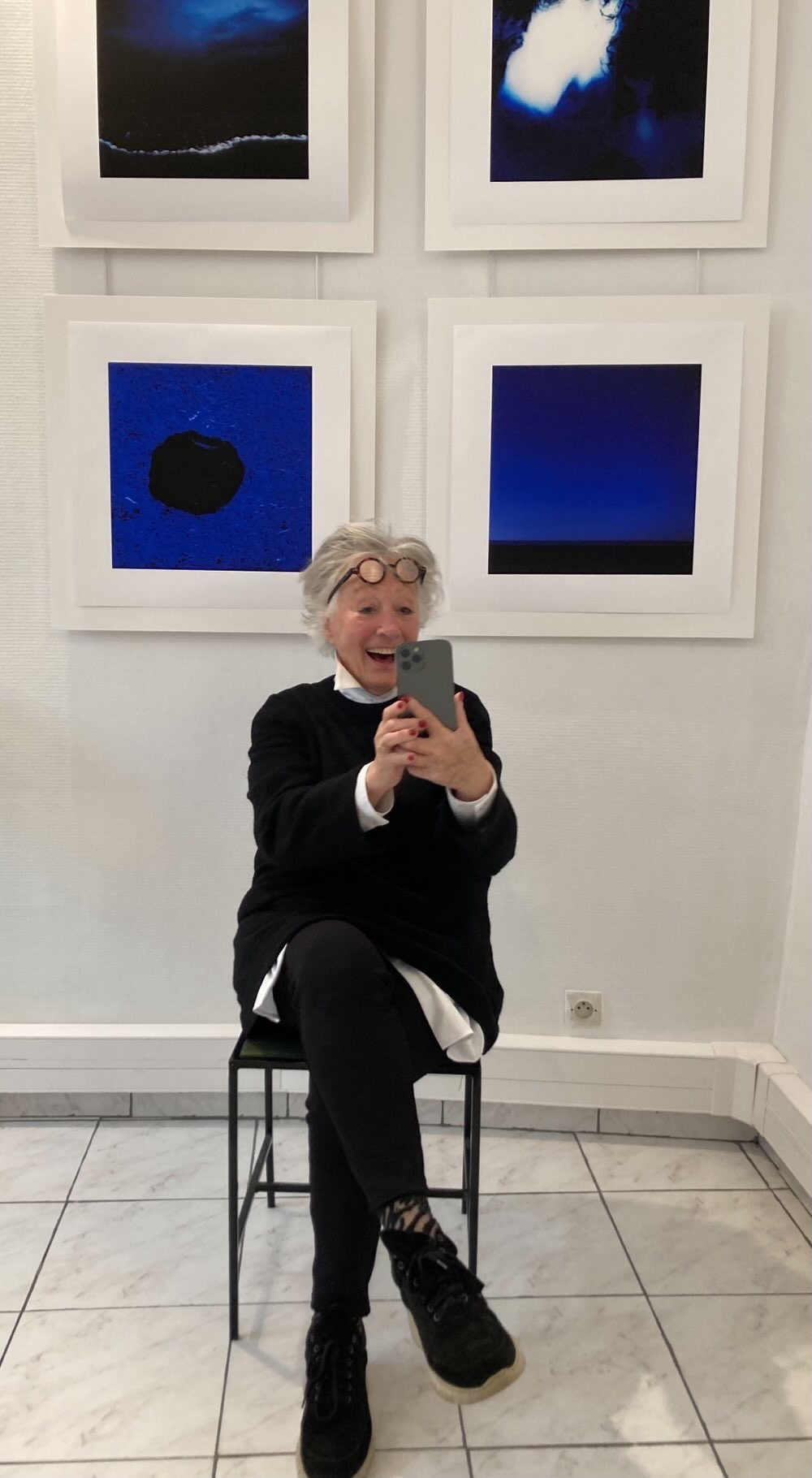 Reading right now
Your Brain on Art by Susan Magsamen & Ivy Ross. It outlines the science behind how the arts, creativity, and aesthetics play a critical role in our health and wellbeing and how everything we surround ourselves with has the ability to dramatically impact our minds and bodies. Immerse yourself in art, your brain will thrive.
Name three products you can not live without
My iPhone, my iPad and my hats.
Your Favourite Tune
She's A Rainbow — The Rolling Stones
Upcoming Exhibitions
Light & Lust — Het Weefhuis Zaandijk
May 27-29, 2023
Group exhibition — Arti et Amicitiae Amsterdam
May 27 – June 30, 2023